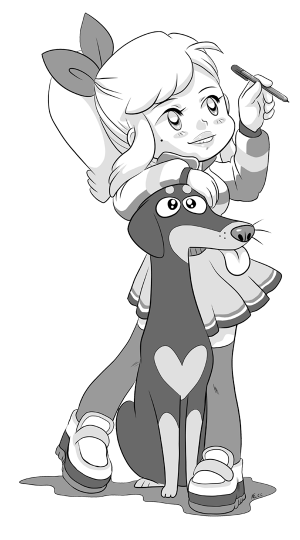 Alice got into the world of manga and anime when she saw My Neighbour Totoro as a kid. It was when she got in touch with the anime Silver Fang and the franchise of The legend of Zelda that she decided to become a manga artist.

She is currently working on her shoujo manga Blodmåne (Blood Moon) for the magazine Min Häst and Hevoshullu in Finland. She recieved the offer to draw Mulle, the mascot for the same magazines, together with it's creator Lena Furberg. She has a big interest in coastal fishing and make the manga strip Hooked, based on her own experiences. It starred as a guest comic in the magazine Pondus in 2019.
August in June, Alice's autobiographical childhood epos, was originally to be published by Galago förlag in 2011. After years of rest, it has both been rewritten and is in the process of being completely redrawn.
Alice has previously made the art for the Silver Fang DVD-covers in Sweden, the  Ginga Densetsu Weed DVD-box and created a How to draw shoujo course in the Swedish manga magazine Shojo Stars. She studied at Serieskolan (Comic Art School) in Malmö between 2005-2006 and 2007-2008.
Books and fanzines out of print