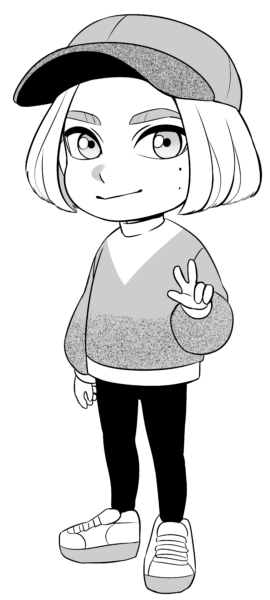 Magnolia "Toffuo" Winroth
Magnolia studied at Serieskolan (Comic Art School) in Malmö between 2015-2017. At the end of the second year at the school, Magnolia became a member of Nosebleed Studio and participated in their first anthology Nosebleed Studio reser i den svenska historien with Lailas resa about Finnish war children.
During their time at Serieskolan, Magnolia started the webcomic ParaZycle, a horror/thriller comic at WEBTOON. It was also published continuously in the Brittish magazine NEO in Summer of 2017.
In 2018, Magnolia wrote the book Nosebleed Studio lär dig teckna manga! – Serieskapande together with Natalia Batista and Elise Rosberg. Later that year, they They taught at the Swedish distance course Mangaskolan.
Magnolia's most well known work is Uriah, a thriller for mature audiences. In 2019, Uriah was signed and published as a WEBTOON Original, USA. The webcomic is ongoing and has weekly updates. It has so far reached over 400 000 subscribers all over the world. In late 2019, Uriah was published by WEBTOON Originals once again but in Spanish for Latin America with over 220 000 subscribers.
Books and fanzines out of print