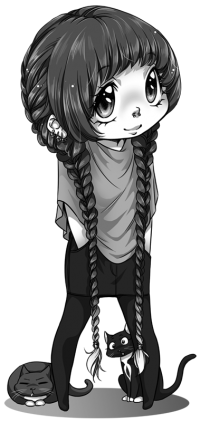 Natalia studied at Serieskolan (Comic Art School) in Malmö between 2005-2007. Her first published comic was Lova in Okej magazine in 2006-2007. She got among the 10 finalists in the Swedish manga competition Mangatalangen 2006 and 2007 and selfpublished her own manga book A Song For Elise after releasing it as a webcomic. It was released in Germany in 2010, published by Tokyopop, with the title Ein Lied für Elise. 
Her debut in Sweden was in 2010 with Mjau!, published by Kabusa Böcker. The manga has since then been published in Portugal, Germany and the US. She illustrated the Swedish children books series Häxfolket by Jo Salmson, published by Bonnier Carlsen.
Natalias most well know work is her gender flipped fantasy manga Sword Princess Amaltea, which was published in 3 volumes between 2013-2015. It has since then been released in Italy, Germany, Czech Republic and the US. She has also made the aquarelle manga Sjöjungfrun Minna och den hemliga vännen, published in 2018 by Rabén & Sjögren.
She har previously worked as a comic art teacher at Serieskolan in Malmö, does workshops at libraries and organizes Malmö Seriefest.
Books at other publishers
Books and fanzines out of print